Luz del Mundo
Luz del Mundo is a home/child minding centre in Santa Cruz, Bolivia, run by Gabriela Rojas Llave. Local children attend and are offered English classes as well as other extra curricular activities such as theatre, music and cultural studies. There is no cultural centre in Santa Cruz and the aim of these classes is to provide the children with a rich knowledge of their culture and enable them to demonstrate what they learn to others through performance.

Gabriela, the director provides them with lunch and all of their learning materials, birthday and Christmas parties/presents, haircuts as well as encouragement and the loving support that they need.

What kind of children attend Luz del Mundo?
Children of single parents living in absolute basic living conditions who are in real need of an escape from their ordinary lives in order to broaden their horizons and hopefully prevent the fall into the delinquency and ignorance that unfortunately becomes the reality for a lot of the ones who are brought up in these poor areas.

Gabriela Rojas Llave is the director of Luz Del Mundo



My name is Gabriela Rojas Llave, I'm the daughter of a single mother and thanks to god, my mother taught me to cultivate love towards others. After I finished my secondary school, I took a course that would enable me to work and create a beneficiary foundation for the children in my neighbourhood. I had previously worked in a home for poor children where I was witness to things and situations that would change my life and way of thinking forever. I realized that until then I didn't know what the importance of life was and since then I realize how wonderful a gift it is to be able to give and help people. I am myself a young mother of two daughters and have a loving husband; I adore my family and it's tough as we only get to spend a few hours in the week together since my husband works 7 days a week.

I live in a neighbourhood that is considered by many the most poor and dangerous in the city which isn't so far from the truth but what people forget to realize is that there are so many children living here who have the right to a better future and life. They are children from the zone, children of friends, neighbours. They fill my life with happiness and love and they deserve the best from life. I am currently studying law and I look forward to finishing as a recognised professional and dedicating my life to improving the lives of the children who are being raised as I was but perhaps without the luck that I had for the love and support of my mother. The things I want to see from this institution are the following:

* I want other poor areas of the city to be able to see and implement similar learning activities and opportunities to their children and together change the minds of our future in a positive way.

* I want to achieve my dream and vision in our own institution and build a more comfortable dining area, a proper classroom, a library and an area for the babies and smallest children to enable their older siblings to leave them happily whilst they participate in classes.

* To build a small and modest theatre where we can host interschool participation in
Bolivian culture and dance performances.

* To involve other people from the zone to conduct classes in language, arts, computation, and manual work as well as someone to act as a nanny for the youngest children.

* To change the image of the poorest neighbourhoods in Santa Cruz and transform them into rich cultural areas where the people strive for a better life.

I intend to make it the work of my life to achieve these goals.

LDM Highlights in 2012
We've accepted about 15 new children, aged 2-12, to Luz Del Mundo in 2012. Many of the LDM regulars now attend school in the morning, which means they don't attend during the week, but come in on Saturdays and at lunchtimes, which means that there can be between 45 and 70 kids at the centre.

Right now (December 2012), since it's holiday time, there are more children attending and because for the last 3 months we've had quite a few musically-talented volunteers, the children have been learning to play musical instruments, especially the guitar, piano and drums.

As for special celebrations, we celebrated "El día del niño", Children's Day, where the kids were invited to the cinema by a local company that supports LDM. Then, there was a cake and a party for El día de la amistad. In October Ina, one of our volunteers, took all the kids for a ride in a sight-seeing bus as well as inviting them to the zoo, which was very exciting.
Right now, We're getting ready for Christmas, which is going to be the 10th anniversary of the Luz Del Mundo foundation.

In terms of infrastructure, a lot has happened. The whole of the centre is now roofed, which means more shade and space for the kids to play. The ground has been covered with cement, with special holes for the rainwater, so it drains more easily and looks nicer. Recently the bathroom was refurbished and fitted with water-saving taps while the laundry space and children's sink were moved, which essentially means that almost the entire lot is a playground.

There were some accidents - one of the stoves caught fire while the other gave out due to old age. Again, thanks to Ina's initiative, LDM was able to purchase a brand new stove that we hope is going to serve for many years to come. We also managed to buy a fairly cheap back-up stove, so the lunches can be cooked even quicker now.

This year we had more than 35 volunteers, from Germany, Austria, Switzerland, Canada, the US, the UK, France, Holland, Australia and Sweden amongst others, they devoted their time and energy to the children of LDM. We are very grateful for their help and truly hope that they enjoyed the experience as much as we enjoyed their presence.

Donations
In the last couple of years the number of children attending LDM had increased significantly and we are now more reliant than ever on external funding.
We are very grateful for any such donations to support our work and help in the operation of the Centre.

You can donate using most types of funds transfer, if you're not sure which service to use, please consider using www.xoom.com, which we have found to be cheap and efficient (you register your debit/credit card in Xoom, and make a transfer to a local bank that Gabriela can collect).
If you are happy to use Xoom, please get in touch with us (volunteerldm@gmail.com)
and we will send you the address and bank details to transfer to.
Thank you for your support.

Volunteer
We need volunteers to help with teaching English and we would also welcome volunteers with a background in music, theatre or any other skills that could help our organisation.

The Centre is open 4 days per week, Mon, Wed, Fri & Sat, for 4 hours in the morning only (the children go to school around mid-day). As a volunteer expect to play with the kids, teach English, Computers, help the children with their homework, help in running the centre, etc. Activities initiated by the volunteers are very welcome.

It's not essential that volunteers are qualified teachers, we would prefer native English speakers for teaching English, however a high level of English as a second language would be OK. The level of the kids is very basic and one of the most important things that they learn is pronunciation since in many cases these classes are the only chance they get at hearing English when they don't have television or stereos in their homes.

Volunteers should be aware that while working with us they may be the only foreign volunteer on-site. Volunteers need to be independent and capable of organising their own work, unsupervised.

The Centre is located in one of the poorest neighbourhoods of the city and you will hear warnings from local people about the dangers of venturing into this part of town. We encourage volunteers to generally dress-down and not draw attention to themselves when working or travelling to the centre. None of our volunteers have had any problems so far and obviously we are keen to keep it that way.

We would prefer volunteers to have basic Spanish speaking skills and we would like you to stay with us for at least 4 weeks, though it's not essential.

Costs
Volunteer assistance is very much appreciated and there are no fees or participation costs to volunteer with us. However volunteers will need to organise and pay for their own accommodation and support themselves financially while working with us.
A ballpark figure for living costs in Santa Cruz is USD$80 per week.

Apply
Although we can answer any specific questions you may have, we can only accept volunteer applications from people who are already in Bolivia or those on the road in a neighbouring country.

We can accommodate between 1 and 4 (maximum) volunteers at any one time.
Please check our volunteer availability calendar before applying:




Please note that we are a grass-roots organisation and we can't take volunteer 'bookings' weeks/months ahead of time. To apply please contact our volunteer coordinator Stéphanie and let us know:

o A few lines about yourself
o When you are going to arrive
o How long you can stay
o What you can help us with

Our email address is: volunteerldm@gmail.com

On arrival in Santa Cruz, we suggest you book into hostel jodanga: www.jodanga.com
Luz Del Mundo is a 20 minute bus ride from the centre of town.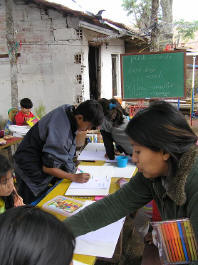 Learning Colours with Gabriela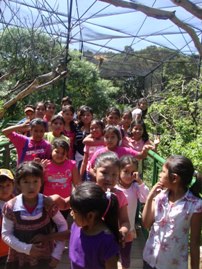 At the Zoo - 2012 .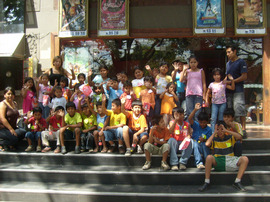 Children's Day 2009 at the Cinema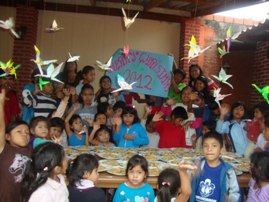 Merry Xmas 2012 !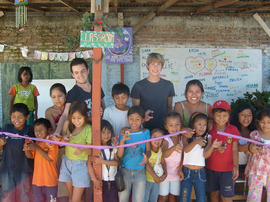 Opening day - our new Classroom.